They were in a great position; already being set-up with a nifty 'Digital Concert Hall'. But even without this, there're loads of services you can use to keep audiences engaged with your organisation while they're unable to come to your building or experience your work in the flesh.
Social media accounts (and your website) are going to be invaluable for keeping in touch with audiences over the coming days, weeks, and months. You know this – and you know how to use 'em.
As the brilliant Vic Murray of Traverse Theatre put it the other day: "We're offstage but we're not offline."
We're offstage but we're not offline.

Vic Murray – Head of Brand & Audience, Traverse Theatre
We've pulled together a few bits of info about live streaming. This might be new to lots of folks – and you may never have experimented with it before – but it's also relatively easy to get started with.
You'll be well aware of the specific rights (copyright ownership, artist fees etc.) that need clearance when it comes to showing live work; whether onstage or online. But there are plenty of other things you can stream to keep audiences engaged and entertained.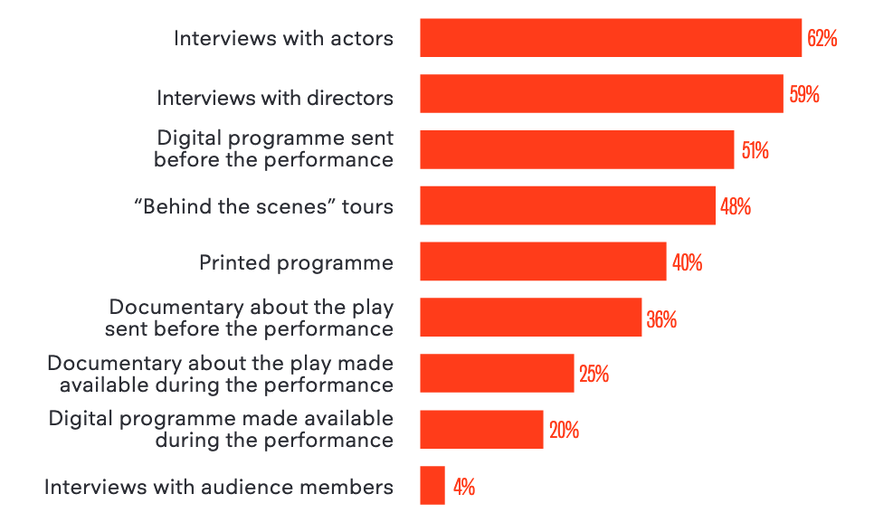 56% of consumers said live-to-digital had encouraged them to engage with organisations they wouldn't have otherwise

Live To Digital In The Arts Report 2018 – MTM / Arts Council England
Quick routes to livestreaming:

London Museum Development's Alec Ward – aka @thatmuseumguy – was super-quick pulling-together loads of live streaming services in this here Twitter thread:
We reckon the quickest ones that're worth experimenting with first are:

Facebook
Lots of you will have already experimented with Facebook Live streaming. It's easy to give it a go – and you can stream from a smart phone.
Twitter
Streaming live from Twitter's done via the app: https://help.twitter.com/en/using-twitter/twitter-live
If enabled, you can also add up to three guests to your broadcast. Handy for something like a remote interview with a director and actor, perhaps 🤔

YouTube
You'll need 1,000+ subscribers to stream live from the YouTube app on mobile. But if you don't (yet) have those numbers, you can still go live using your desktop / laptop and a webcam.
It's worth noting that it takes 24hrs to 'activate' live streaming on an account, so you'll need to do some advance set-up.
Instagram

You can stream live from Instagram – but your video will disappear after 24hrs unless you fangle around saving it to 'Stories', then making that video a 'Highlight'. Alternatively, you can save it to your camera roll but this only saves the video – not things like comments, likes and viewers. So it's probably the least-useful of the easily available platforms.
---
Also on the streaming / video theme – The Guardian have a nice round-up of 'the best (their words 😉) theatre and dance to watch online'.
Here're the sorts of things we'd love to see/hear:
A live backstage tour and / or shuftie through your props cupboard if you're in the building.
Interviews with directors, choreographers, writers, actors – maybe even with questions being posed in real-time, via Twitter and Facebook?
A script read-through – or teaser sample – read by the playwright.
A 'house band', made up of staff playing in their respective homes. (This may not be something you wish to share with audiences … 🙉)
Some ace examples of video here, from our pals Sheffield Theatres and Traverse Theatre:
Whatever your medium or message – remember to let people know how they can donate, if they're able to support you financially, or ask them to share your content if they aren't.