An all-new haberdashery, fabric and yarn store will be opening in Moseley later this year. Called Guthrie & Ghani, we've designed a rather lovely visual identity for them, and are currently busy crafting their website.
No dusty, fusty old shop, Guthrie & Ghani is going to be light, bright and design-led so we had to create an identity to match this vision. Hints of tradition mix with a clean, contemporary style and cheerful, distinctive colour palette. Cute as a button!

When Lauren and Ayaz (aka Guthrie & Ghani) came to us, they had a clear vision for their new shop; light, bright and filled with a carefully curated selection of top quality fabrics, yarns and other haberdashery, everything would be design-led and help teach people that 'handmade doesn't have to look homemade'.
They knew how the physical shop would be kitted out and the sort of experience they wanted for customers – what they weren't sure about was how to translate these ideas into a brand identity to match their vision.
Not to worry – that's our job!
Our solution is a reverential nod to the values and traditions of the past, but is clearly contemporary in its execution. There's a hint of Modernism with added warmth; much of which comes from a distinctive, cheerful colour palette – developed to work as a full suite but also in smaller subsets of two or three colours.
A big bold typeface works perfectly for the logo and 'G&G' icon; it's easy to read at a distance (think signage) and also looks lovely when used at smaller sizes (price tags, for example).
Simple geometric shapes – circles, triangles and rectangles – play a leading role, allowing use of the brand colours in a straightforward and unfussy way for easy creation of designed elements.
We also take full responsibility for the haberdashery-related puns. Tongue-in-cheek, cute and informal, these are designed to be used across many applications; postcards, web banners, promotional bags, wall vinyls …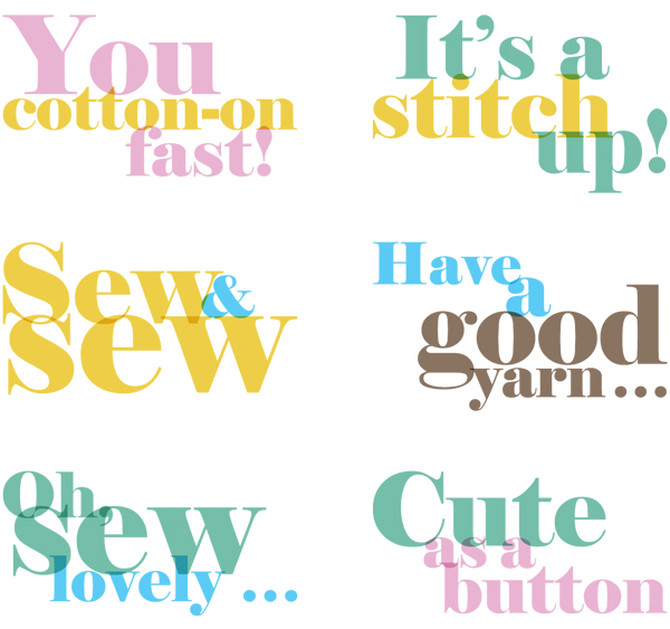 The friendly team at Supercool really took the time to listen and understand our business. We believe that our look and website will give us a competitive edge.

Lauren Guthrie – owner