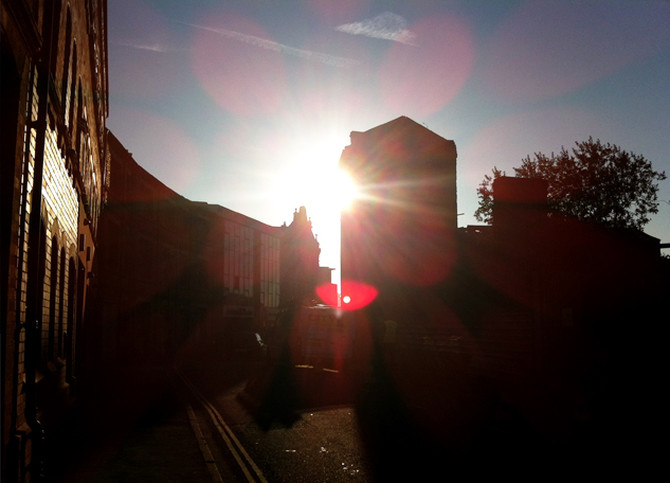 Supercool officially formed on this day in 2004, when fresh-faced graduates James and Kris opened the company's first business bank account.
This was back in the day when it was pretty-much unheard of to start an agency straight out of uni. Those crazy kids! But, after lots of hard work, lateral thinking, grit and determination, it panned-out well.
Thirteen years on, Supercool's going strong – we even made an award-winning website recently. Go team!
And until the start of this month, we were still based in the very same building we first called home; 8a Legge Lane in Birmingham's Jewellery Quarter.
Although we're now a distributed team, our JQ headquarters served us well, and I couldn't leave without penning something of a love letter to the old neighbourhood …
---
Sunset on the JQ
When we first moved there, the Jewellery Quarter wasn't the cool, hipster hangout it is today.
Nope; our immediate local area was made up of abandoned, crumbling and derelict former factories. This allowed for almost endless discovery of amazing old typography and signage; but also meant a long walk to find a pint of milk.
And it wasn't the most welcoming – or well-lit – of places after dark.
Legge Lane itself was the epitome of cool, urban decay, particularly in the mid-late 2000s.
Interesting shells of old buildings? Check. Overgrown courtyard? Check. Hard-edged railings? Check. So, every few weeks (during university term time) small groups of photography students would arrive to make use of that edgy, gritty backdrop – then beat a hasty retreat.
(There must've been some collaboration with fashion students too as some of the models' outfits were … avant garde.)

Over the last 13 years, I've witnessed the Jewellery Quarter evolve from a long-neglected area of beautiful but decrepit buildings into a smart, bustling quarter full of live/work spaces, independent bars, restaurants, cafés – and coffee shops.
Nowadays it's fair to say you won't have trouble finding a cup o' Joe in the Quarter. But imagine the local buzz in 2008 when the area got its very first, actual, proper coffee shop.
Although Saint Caffè is no more, it will always hold a special place in my heart – not only did it pave-the-way for the area's increasingly popular café culture, it was also the venue for Likemind, a coffee morning/gentle networking event we ran until 2012.
We made new friends, and work contacts! We learned loads of interesting Jewellery Quarter facts from Brian! We raised money for charity! We drank more coffee than was probably good for our insides!
In the main, the Jewellery Quarter has been – and continues to be – developed in a thoughtful and considerate way.
Preserving all the good stuff is helping to retain the area's distinctive character, and avoiding it becoming just an extension of the city centre. This is A Good Thing.
It seems weird now to think barely anyone lived here when we first arrived – the JQ's now an increasingly popular and desirable residential area, which has almost certainly helped it to maintain its friendly, almost villagey feel.
So far, so gushy – I did say this was a love letter – but what won't I miss?
The commute of course; the perpetual, occasionally disruptive but always noisy construction work; and the even louder gulls.
I will miss the area though – the proximity to excellent sandwiches, film sets, and my favourite Indian restaurant – and the office itself wasn't half bad. But there comes a time to shake things up; to move on. And I'm sure I'll be back for a visit.
So, farewell Jewellery Quarter – you've been lovely.
---
Thirteen years of Supercool
Having a birthday in the same month as Leggexit (Legge Lane Exit) seemed a decent enough excuse for me to dig-out some old, mostly office-based, photos: