---
Victoria Dyson – Co-Artistic Director, Performer and Marketing Manager, Filskit Theatre
---
Give us a quick intro to you and your organisation.
Hello! I'm Victoria and I'm a third of the core team that makes up Filskit Theatre. We specialise in making exciting, challenging work for young audiences. Some of our previous productions include collaborations with The Unicorn – Breaking The Ice (where I played a Husky) and Huddle (where I got to play a baby penguin). Other Filskit shows include Bright Sparks, Stella and Kaleidoscope, our show for babies.
How have you and the Filskit Theatre team had to adapt during lockdown?
Well, these are quite extraordinary times we find ourselves living in! It's quite strange imagining a future where the content of 2020 will fill the history books.
I'm sure, like us, you've also experienced a rollercoaster of emotions over these last few months. We just keep thinking about all the children who have had no access to live theatre or art during this time. Or the babies of lockdown who are yet to see a live performance and have only existed in a world where we wear masks! We're longing for a time when we get to perform in theatre spaces again – so we're having to evolve and think of alternative ways to reach audiences.
As a small company making work for young audiences we are very fortunate. We do not run a venue so have had the advantage of being fairly adaptable during these difficult times. Sure we've had a financial hit but we have been able to transfer most tour dates to 2021. PLEASE SAY SHOWS WILL ACTUALLY HAPPEN THEN OR WE MAY IMPLODE.
Our work is very visual and we pride ourselves on our audience interactions. With venues closed, there was a noticeable rush for many companies to throw content up online. Although our work is heavily tech-based – with intelligent lighting and interactive projection – we were initially hesitant to share stuff online. Most of our work has only been filmed for archive footage – no one wants to see the grainy, back-of-the-auditorium version of their work! You realise how much you cherish the live event.
However, we were fortunate enough to receive a small amount of Arts Council Emergency Funding to keep our heads above water, for which we are very grateful.
We also received support for a project around our existing show, Stella – thanks to Strike A Light, Create Gloucestershire, and Cheltenham Festivals.

We have also adapted Kaleidoscope into an online version. The original show is based on how babies learn to see and process colour. During creation we consulted with Sussex Baby Lab to make sure the piece was grounded in scientific research.
As the piece is currently being produced for an online audience we decided to increase the musical element. So, we are also working with musicians who play live during the experience as the babies watch via the video call. It is essentially a mini, colourful, interactive event for babies on Zoom!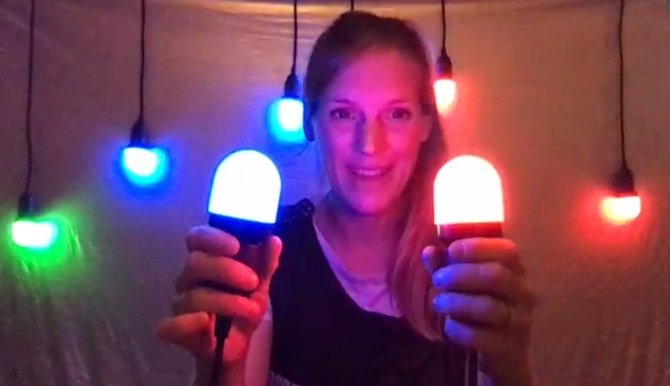 What normal workday thing are you missing most from the 'beforetimes'?
We are hugely missing the devising process. Being in a room together, bashing-out creative ideas. Downing multiple cups of tea whilst furiously writing on large pieces of paper as the show begins to weave itself into shape. Getting up on our feet. Yoga stretches and warm-up games to get us moving. And laughter. So much laughter. And hugs! And yes, more laughter.

(Plus us Filskits are well known for always having a first class Snack Table on the go. Snacks and tea fuel creativity. That's a well-known fact.)
On the other hand, what's been working well for you, and might you keep doing after lockdown's ended?
As a company who live geographically quite far from each other, we are actually used to being apart. The only difference is, instead of long car journeys and multiple train journeys to meet, we appear on screen.
It's certainly been much more green from an environmental perspective to be apart during this time which is something we have definitely been working towards and will continue practicing. You can't replace the real thing but it can be a great time and money saver.
Two of us now have new puppies so that's certainly been a big change! We recently had a Bring Your Dog To Work Day for a socially distanced Filskit meeting. We may have to keep that going in future (even just for the adorable photo opportunities!)
What's been the most surprising thing you've learnt? (Whether a new online tool, a new skill – or something about yourself or other people.)
How efficient you can be when you are on screen. I've realised how guilty I am of cracking jokes and going off on tangents in meetings.
When you're online you have to listen more or you end-up hogging the screen with every "yes" or "mmm hmm". I have found that hard as I like the lively, creative exchanges. But I have perfected my Zoom listening face.
I have also been surprised by the warmth online. Through Instagram, Facebook and Twitter along with all the Zooms, Skypes and Teams meetings, the world has become smaller. We've (virtually) met so many fantastic people during this time.
We've joined many interesting panels, conversations and breakout rooms in a way we never would've been able to afford, have access to or time for. That has really brought people closer together and shown the power of the internet. New future projects and ideas have even come about that way which is wonderful. There is a real sense of idea sharing and solidarity during these difficult times.
There is a real sense of idea sharing and solidarity during these difficult times.
You seem to have been pro-active at keeping connected with other theatre folks during lockdown (e.g. Filskit Tea and Chat calls). Have you always done this kind of thing, or is it a by-product of lockdown?
We actually started getting quite a few emails from practitioners and younger companies asking for advice or a bit of mentoring. We've helped several people with their Arts Council applications and it just felt like a nice way of shouting out to see if anyone wanted a bit of an online chat over a cuppa. Nothing too formal, just some friendly ears and a place to throw out questions or spitball ideas. And we've met some really brilliant, inspiring people along the way.
The lovely thing about the PYA (Performances for Young Audiences) sector is that there is a real feeling of comradeship. It doesn't feel competitive. We collectively want good, high quality work to exist for children so the more the merrier in our book!
It can be quite daunting when you start out especially if you aren't having the opportunity to attend festivals or networking events. A lot of people took the time to chat to us when we were green behind the ears and starting out so it feels like the right thing to keep going.
As well as your work, your blog and social media include other things to lift the spirits (photos of flowers in your garden, a random horse at a front door, the dogs of Filskit etc.). It feels very natural, personal, and refreshingly human – even for the lovely arts sector. Makes me feel like I know you! How've you managed to sustain this level of openness – especially having been going for 10 years? (Happy first decade, by the way! 🥳)
Why, thank you very much. We still can't quite believe it's been 10 years. We often joke how some of our biggest cheerleaders haven't actually seen our work (fortunately the ones that have still like us!) But they seem to buy into us as people.
Tooting my theatrical trumpet for a second, I like to think that we're an approachable and fairly likeable trio. We are (hopefully) considered Nice People. And over the years we've discovered – news flash – that venues and collaborators seem to want to work with Nice People. So we always just try to be ourselves. We try and remember that people are human. Be friendly. Be open. Be warm. We make work for young people and I think authenticity serves us and our work pretty well.
We can be super childish as well, but we like to embrace that. We certainly never shy away from a bum joke in our shows! Yes. A very professional theatre company indeed...
Filskit's work has lots of multi-sensory, immersive aspects. As a performer especially, how are you coping not having this face-to-face interaction with audiences?
It is tough. You miss the magic of that direct eye contact. The feeling that anything can happen. The gasps when there's a surprise. And of course, all the infectious giggles.
We have done some online workshops and the engagement from the children was just joyful. Several knew how to unmute themselves and were just bursting to share their creative ideas with us. We think they were just over the moon to interact with someone who wasn't their parent for a change!
Playing with the space in Zoom is quite interesting. Getting close to the camera can feel like you are almost sharing a space. Knowing it's taking place live and being shown in multiple houses is quite exciting. It's a brand new world and one we're having to quickly embrace and see the future potential in as we all get to grips with the New Normal.
There's no putting it off any longer – 'Filskit'?!
It is a bit of strange one! It's actually a word from Shetland dialect. It essentially means 'lively, high energy and a little bit naughty'. It's a bit cheeky and playful and we thought it was a good fit. We do enjoy all the wrong spellings too though.
And finally – your call-to-arms. What one thing* could we in the arts do or change following the pandemic, in order to be more inclusive, and 'build back better'?
*Can be more than one thing
We want to see more inclusivity and diversity across the board. In the hiring of teams and performers, through venues and organisations, at all levels. Instigating better working practices. How can we use this time to learn, going forward?
We also want to see more diversity in the stories that are being told in the arts. More voices need to be heard. There has been an unprecedented global shake-up but we have a real opportunity to do things differently and start from scratch. Any pre-existing structures that existed before will have gone. So let's shake and clear the Etch-A-Sketch and embrace change.